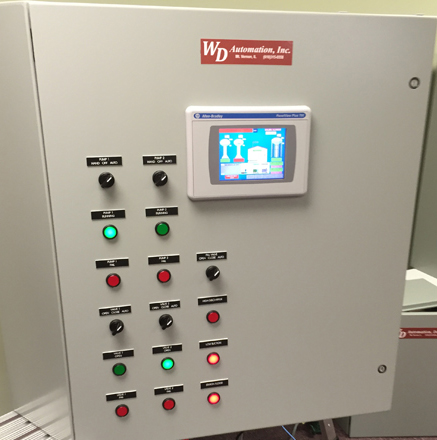 Variable Frequency Drive Programming in Illinois
Variable frequency drive programming controls the speed of water pumps at treatment facilities, giving operators control over the supply of water flowing into the plant, to ensure proper flow capacity. WD Automation, Inc. assists our customers in Mt. Vernon, Marlow, Drivers, and Marcoe, IL in managing their VFD applications—specifically when it comes to the setup and configuration of VFDs for water pumps. Our approach to VFD programming gives controllers the automation they need to optimize water and wastewater applications.
VFD Programming
Proper VFD programming is essential in proper governance of pump systems. We program VFDs in accordance with user controls, as well as PLCs for automated capabilities. Our experienced team has worked on broad water and wastewater projects in the past, giving us foresight to the application itself, which informs better programming of VFDs.
Our experienced VFD programmers address both parameter and value components of VFD configuration, ensuring your drives act accordingly. Whether manually controlled or as part of an automated system, expect proper function after we're done.
Proven Equipment
In addition to our VFD programming capabilities, the reason customers in Illinois turn to us is because we use proven products and components from industry-leading companies. When it comes to VFDs, we put our trust in Allen-Bradley (Rockwell Automation) products. Our team has intimate experience with Allen-Bradley drives and controllers, which allows us to program them quickly and in price accordance with your system requirements.
Turn to the Experts
WD Automation, Inc. is proud of our established reputation as VFD programmers. Our capabilities are proven across the many Illinois customers we've served and the numerous water and wastewater applications we've attended to. If you have a VFD application that requires proper configuration and deployment, contact us to handle it.
Contact our team today at 618-315-6558 to discuss variable frequency drive programming, SCADA systems, internal system implementation, or to learn more about the products we use.