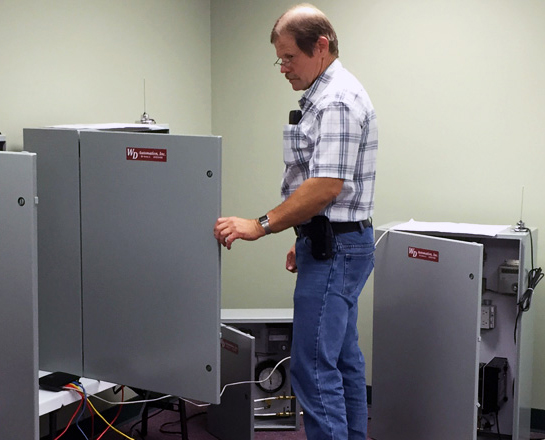 Internal System Implementation in Illinois
WD Automation, Inc. offers a variety of services, ranging from complete control system integration services to internal system implementation, to emergency call support. We able to design a complete SCADA or control system from scratch to meet our customers' needs—or, work with existing equipment to provide a more economical integration solution.
Our primary customer base includes municipal and industrial water companies throughout Mt. Vernon, Marlow, Drivers, and Marcoe, IL and the surrounding areas, as well as rural water and wastewater utilities. We tailor our system design solutions to every customer's unique needs.
SCADA and Control System Setup
We work with each customer's design engineer upfront during the planning stages of a project, to ensure the best possible control system setup to fit their scope and budget. We're involved with every new control system from planning, to development, to realization and implementation of the system. Our range of services is designed to provide complete support for SCADA and control systems.
Field startup of equipment
Local and Wide Area Network (WAN) setup
Operator training
Radio topographic path studies
Service and Support
In addition to system integration setup, we strive to provide complete support to every customer in whatever capacity they require. We understand the complexities and learning curve that come with these systems, and we know their complex nature requires a reliable partner when it comes to troubleshooting. We're on-call in whatever capacity you need.
On-site system troubleshooting and maintenance
Remote software support
Scheduled or emergency service
Service contracts and extended warranties
Technical phone support
Innovative Solutions and Support
WD Automation, Inc. is the authority on system automation setups and control system development for municipal and industrial water and wastewater applications in Illinois and beyond. To learn more about our services and capabilities, please contact us today at 618-315-6558. We'll gladly provide you with the service and support you need to enhance your SCADA and VFD systems.